Description
The pack includes:
6 hangers for coats, jackets, suits, skirt or pants
10 hangers for blouses, skirts and pants
20 hangers for dresses, tops and blouses
Ash wood essence
White washed color
Hook and clips color nickel matte
<360º swivel hook
Movable clips along the entire length of the bar
Wide notches for all types of straps
Width 38 cm
Shoulder width: 4.5 cm for coat hangers – 2.5 cm for the other 2 models
Hook diameter 5 mm, height 8.5 cm
Professional clips that leave no mark and ensure a perfect fit
Care: dust off with a soft, dry cloth
The collection MADEMOISELLE, with soft colors, comes in 3 models for all the feminine clothes of your dressing room. The hook and clips nickel mat complete the high-end design of this range of hangers.
Your jackets will keep a good shoulder, your dresses and small tops with straps will not slip any more, thanks to the notches skilfully carved in the wood and your skirts and other parts will be maintained by strong clips and leaving no marks.
Delivered in 4 white gift boxes with logo. Each hanger is individually wrapped in a protective cover.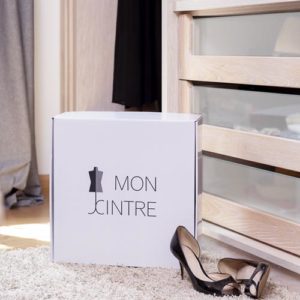 *Non-contractual photos.
Note that the colors change from one screen to another, so it is possible that there is a variation between the screen and reality despite the care given to the quality of our photos.